The relevance of a blog about local businesses in Wellington, Somerset for a web design business?
Well, it's Sunday morning and my 2 girls wanted to go to Flip Out Trampoline Adventure Park in Wellington as it's just opened. They train with Whirlwinds Academy and bounce a lot so they were super excited to find out a trampoline park was opening nearby. As local businesses in Wellington Somerset support each other, a perfect opportunity to see what's new.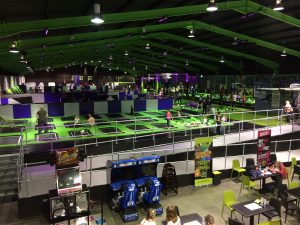 For me an opportunity to do a bit of work while the kids enjoy themselves.  A BOGOF offer made it even better as £10 for 2 hours was an excellent offer.
So still why the relevance of a blog about local businesses in Wellington, Somerset? Quite simply I haven't got any work done as I've been too busy admiring how great this place is. So, I've decided to let everyone find out more about Flip Out in Wellington Somerset. My girls have massive smiles on their faces and they are loving every minute of it. What more can you ask for?
We've been to many other trampoline parks but Flip Out offers so much more. As you would expect it has trampolines, a dodgeball area and basketball rings to slam dunk from a trampoline. But then it has monkey bars, wall runners, foam pits that are easy to get out of, Ninja Warrior course, free running zones for kids and adults, battle beams, 20m tumble track and probably other things I've missed. Oh, and a café which is important for me!!
A small town like Wellington now has a great attraction for families so what else is local?
Pubs/Food
Within close distance is The Skylark – a 2 for 1 pub that is great for families.
Nearby is a Subway in the Budgens petrol station.
A few minutes' drive into Wellington and you'll find The Iron Duke, a Wetherspoons pub that offers amazing value for money food and drink.
Shopping
A Waitrose store is also in Wellington so you can get some quality food and deals that may surprise you.
Some quirky stores and lots of farmers markets frequent the town as well as loads of charity shops.
Coffee Shops
A Costa Coffee and Coffee #1 so you can chill out and relax with your friends.
So all in all my morning of working is saved by this blog about local businesses in Wellington, Somerset – Thank you Flip Out hahahaha